Pizza on display at a non-train event
I'm posting this mostly for Bob and Sandra Baxter, who
almost
went to this event, just so they can see what it looked like. The event was the Anaheim Packing House "Citrus Festival" on Saturday and the "farmers Market" on Sunday...dont ask me what all went on at the event, I was stuck with the layout so didnt get to walk around much during the festival, but I did get a good look at the place during our off time.
Well Bob, Sandra heres what you missed, heres the building, it's the old orange packing building:
they even have some old flat cars outside as a dining area, very neat touch:
Inside: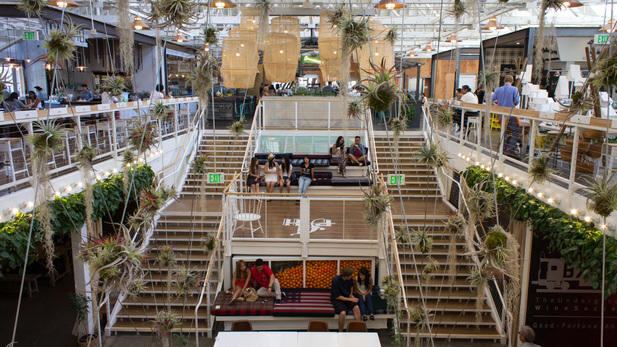 NICE....that stairway in the center is where we were set up...UNDER the stairway and there lieth the only fly in the ointment
To get to it, you had to come down these stairs outside, not steep at all.
But once inside the entry was just a small regular door, not so hot for getting big peices in or out;
BTW that sign was the ONLY sign directing people to the train display area, and it tended to wander around a bit, not in the best locations either.
This was the door in:
Once inside the room was actually VERY nice, its their wedding reception room, bright very well lite.
It was just me and the folks from the TTOS who brought two layout setups, same ones they had at the BTS, and a fellow selling original orange crate labels.
We were well illuminated by the wall of MANY chandleirs
The biggest issue was awareness, no one really had a clue we were down there because there was no signage directing people to us, they finally had a couple employees parked out in the entryway directing people in to the room, once that happened we got a rather GOOD crowd, and it was a good day, on Saturday, this didnt happen on Sunday and it was dry, so we packed it up about 2pm. I plan to address the organizer with a friendly letter explaining how if they chose to have trains again next year how to do a better job of 'spreading the word' hint: signs are cheap.
The organizers were great! VERY responsive and really did try to accommodate us as best they could, so i can't really fault them. This was their very first time there was a learning curve to negotiate, hopefully next year will be smoother. I will say that of all the places I've displayed this place had THE BEST FOOD EVER, all the stalls are Foodie and gourmet oriented, a little pricey but delicious, we will DEFINITELY be back to try more.
Anyway thats it regarding the show. next post will be a couple upgrades to the layout I wanted to share.